Dissertation Research: An Integrative Approach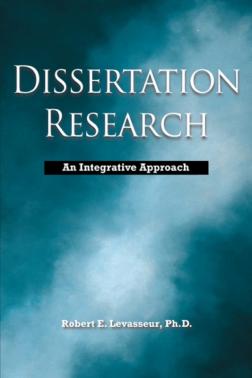 Published by MindFire Press
Written by a university professor who teaches research methods and who has worked with dozens of students to help them achieve their goal of earning a doctorate, Dissertation Research contains practical information about what you must do at each step in the dissertation research process, and why, as well as specific examples of how to do it.

If you are considering the pursuit of a doctorate, are a student just beginning your doctoral journey, or have reached the final phase of your doctoral program and are facing the daunting task of writing and gaining approval for your dissertation, Dissertation Research will both demystify and accelerate the process.

From Dissertation Research you will learn:
• The steps in the dissertation research process
• How to find a researchable dissertation topic
• How to develop an integrated research plan
• The structure and content of the proposal
• How to write a high–quality proposal
• How to conduct your dissertation research
• The structure and content of the dissertation
• How to write a high–quality dissertation
• The steps in the dissertation review process
• How to choose a dissertation committee
• How to manage the dissertation process
• How to publish your dissertation findings

Excerpt 1

The dissertation is a daunting challenge. However, because the successful completion of the dissertation is necessary to move from ABD (All But the Dissertation) status to Ph.D. status (or the equivalent), there is no doubt that doctoral students are motivated to learn how to meet this challenge.

Despite the best efforts of universities to prepare them for this "final examination" of their doctoral studies, most doctoral students, regardless of how well they have done in their course work or on the major papers or exams that comprise the earlier part of their doctoral program, have very little idea when they reach the dissertation stage of (a) how to identify a suitable topic, or (b) how to design, conduct, and report the findings of an acceptable dissertation research project based on that topic . . .

What most doctoral students need, and what my mentees have found most useful, is a more integrated, systemic, problem-solving approach based on the essential steps in the research process. Hence, the purpose of this book is to try to demystify dissertation research by (a) describing a simple, systemic, integrative approach to doctoral research, (b) providing examples of how to apply it effectively in qualitative, quantitative, and mixed methods research studies to harness personal passion and scholarly pursuit, and (c) providing students with the tools they need to apply the integrated process to their own dissertation research.

Excerpt 2

The secret to writing a first class proposal and dissertation is simple. First, develop a solid integrated research plan (IRP), one that can stand up to the scrutiny of your committee chair and others (e.g., fellow doctoral students, friends who have a doctorate, etc.), before you write a single word. Second, follow your university's dissertation rubric and other dissertation guidelines to the letter. Third, write like a scholar.

Endorsements

Dr. Levasseur's step-by-step method through the dissertation process is a phenomenal and certain way to reduce the time and cost required to attain a doctoral degree. As a senior leader in a multi-billion dollar healthcare organization with an incredibly busy calendar, I personally benefitted from his scholarly yet practical and time-saving approach to academic success—beginning with a clear explanation of the steps and research requirements all the way through dissertation defense and publication.

Dr. Levasseur developed his approach with a seemingly record-setting completion of his own Ph.D., and perfected it in his roles as mentor, committee member, and committee chair for many dozens of doctoral students. This superb book, Dissertation Research: An Integrative Approach, captures that perfected process in a way that will help any student maximize his or her return on this important academic investment. I know—I'm living proof that it works!
Michael Miller, Ph.D.
Dr. Levasseur's new book, Dissertation Research: An Integrative Approach, is a student-friendly, systemic, step-by-step guide to dissertation research from the initial step of identifying a viable research topic (based on the development of an integrated research plan) to the writing of an acceptable proposal, conducting of the actual research, writing of the dissertation manuscript, and publication of articles based on the findings of the dissertation. I had firsthand experience of Dr. Levasseur's teaching methods, techniques, principles, and practices when he served on my dissertation committee. He is the main reason that I was successful in obtaining my doctorate in Public Policy. Hence, I highly recommend his new book to all dissertation students.
Rabia D'Andrade, Ph.D.
I often ponder what it was that afforded me a clearer understanding of what the dissertation process entailed and how I would make sense of it all. When asked by others both inside and outside of academia about how I achieved publication in such a limited period of time, I convey every time that it was my choice to select a dissertation chair, Dr. Levasseur, who had a reputation for quality instruction and very high expectations of his students.
Patrick Burtch, Ph.D.
The entire dissertation process is an integrated one. The chapters in Dr. Levasseur's new book, Dissertation Research: An Integrative Approach, will guide a doctoral student through all of the steps of the dissertation process, including writing the proposal, selecting a dissertation committee, conducting the research, analyzing the results, and finally presenting and publishing the results. The dissertation is an exciting journey, and this new publication by Dr. Levasseur will definitely help prospective doctoral candidates to complete the dissertation process successfully.
Dr. Gary Griffith
Dr. Levasseur was the chair of my dissertation committee. His clear, attentive, and responsive approach to dissertation research was critical to my ability to navigate the dissertation process with great success.
Elsie Smalls, Ph.D.
Paperback | 176 pages | $29.95 USD | 9780978993030