Breakthrough Business Meetings: Shared Leadership in Action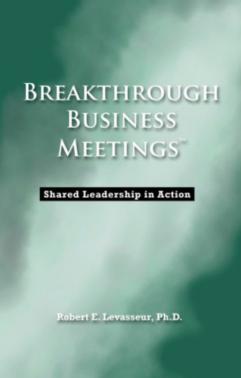 Published by MindFire Press
Based on the secrets of professional group facilitators, Breakthrough Business Meetings will enable you to:

• Motivate meeting participants to act as a team

• Enable them to make consensus decisions

• Energize them to work together to implement those decisions

The universal principles in Breakthrough Business Meetings:

• Apply to any meeting, whether large or small, informal (with no set agenda) or formal (with a tight structure and established time limits)

• Apply to both business and non-business meetings, such as those of civic organizations, social groups, associations, schools, and governments

• Apply to face-to-face and virtual meetings

You can benefit from Breakthrough Business Meetings, whether you are designing and facilitating your first meeting, or you are a seasoned manager who has led hundreds of meetings.

Breakthrough Business Meetings has four parts. The first describes the breakthrough meeting system. The second deals with advanced meeting methods. The third presents four application case studies. The final section contains a variety of resources.
There are many logical reasons to own a copy of Breakthrough Business Meetings. The following testimonials, from satisfied users of the principles and practices described in the book, provide some emotional reasons as well.

Earlier you read what Professor Schein, an expert in the field of human behavior and organizational change, had to say about Breakthrough Business Meetings:

"One of the most theoretically sound yet totally practical books on meetings and group management that I have ever read."
– Edgar Schein—MIT Sloan School of Management
True to his word, Dr. Schein used Breakthrough Business Meetings for years in a graduate course at the Sloan School of Management on change management.

Here is what some other people who have used the tools and techniques described in Breakthrough Business Meetings successfully in their work have to say:

"It's never been more important to manage meetings for results. Breakthrough Business Meetings is practical and immediately usable. Levasseur's methods are results driven and really produce."
– Linda Repaci—VP, Corporate Information Systems
"Breakthrough Business Meetings is a wonderful guide for the leader/practitioner who wants to empower people and help teams to be the best they can be. There is no doubt that I will use this book often."
– Clifton Clarke―International Consultant
"In Breakthrough Business Meetings, Bob Levasseur presents some simple-to-follow steps that are based on complex human dynamics. Regardless of their years of experience, managers at all levels can use this book to improve meetings dramatically. I have used these breakthrough meeting techniques in my reengineering work to improve my performance and the performance of my organization."
– Richard Powers―Process Integration Manager
"Not only have I read this book a number of times, I use it on a regular basis in my work. I've read all the books on meetings and haven't found one better than Breakthrough Business Meetings!"
– Jim Kennedy―Organizational Change Consultant
"Self-managed teams, TQM, continuous improvement, learning organization, search conferences, and nearly every other contemporary effort to remold organizational functioning places a heavy burden on people gathering in order to discuss new directions and plan for their implementation. Practical, eloquent, organized, and earthy, Breakthrough Business Meetings tells a reader what to do before, during, and after these meetings, and when those special, painful problems occur, like conflict and filibustering. The book's assumptions about what makes meetings effective are current, and its numerous examples are an obvious product of the author's years of experience as a manager."
– Harvey Hornstein―Organization Consultant and Professor of Psychology
Paperback | 200 pages | $19.95 USD | 9780978993047